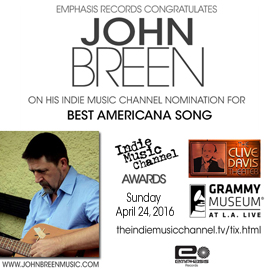 03/21/2016 ~ Atlanta, GA
Emphasis Records is pleased to announce the Indie Music Channel Hollywood, has nominated John Breen in the "Best Americana Song" category for the tune "I Sill Believe", the first single from his current album "Origins". John's nomination comes from a voting panel of music and radio industry judges.
A collaboration between Breen, lyricist Charlotte Hannon, famed multi-instrumentalist Tim Crouch and producer Stevie Hawkins, John's powerful Irish voice carries us through a lyric of universal appeal with excellent production. The fiddle and mandolin set the mood while the tin whistle and Celtic harp create warm lush sounds that carry us right along until we too find ourselves believing. The single is distributed by Emphasis Records and Catapult Distribution to iTunes, Amazon, Google Play, and to local & major retail outlets.
The Indie Music Channel was created by Emmy Award winning TV host, actor & model, Christopher Ewing. Mr. Ewing is passionate about helping and promoting the music of independent artists globally.

"I created The Indie Music Channel and 'The Radio Cafe' radio show because I have always felt that there needed to be more support for local, indie music. There are a lot of really talented singers and bands out here whose music isn't getting enough radio play, if at all, mostly because they aren't signed to a big record deal with a major label. Whether these singers or bands have a record deal or not, they still have AWESOME music that deserves to be heard on the radio and now, through the Indie Music Channel, there is an outlet for them to get their music played." says Mr. Ewing.

As an actor, Ewing has appeared on such top rated shows as "All My Children", "One Life to Live" and others, plus over 80 radio & T.V. commercials. He has also been the narrator and /or spokesperson in countless industrial films for General Motors, IBM and many others.

The Indie Music Channel Awards Ceremony will take place on April 24, 2016 at the The Clive Davis Theatre inside the legendary Grammy Museum in Los Angeles, California. Each year, hundreds of artists and guests from around the world attend the Indie Music Channel Awards. Nominees are selected by a panel of professionals based on the genres of their expertise in the industry. For tickets and information please visit: theindiemusicchannel.tv/tix.html.